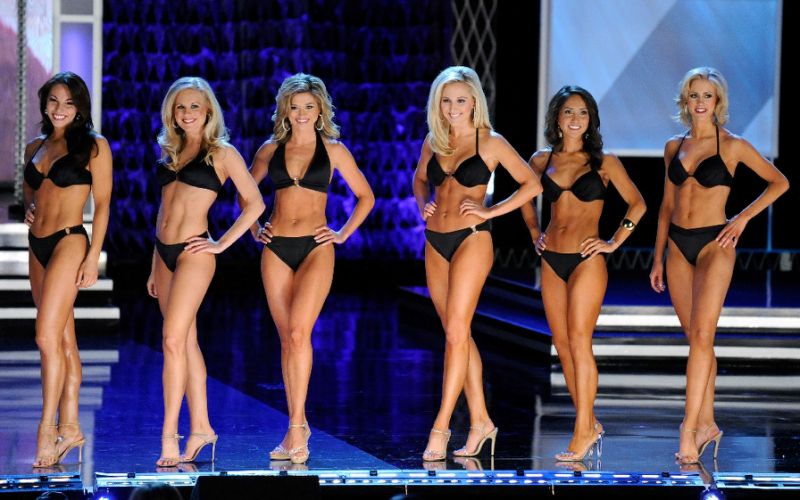 'WE ARE A COMPETITION' MISS AMERICA PAGEANT
Miss. America has been historically known for being a competition of pose, talent, and beauty- for some.  For others, it has been seen as a spectacle of patriarchy where women are judged by the size of their… hearts, right? Regardless of your personal thoughts on the pageant (and industry), Ms. America seems to be catching up with the times.  As of this year, Ms. America has a new attitude and flaunting ain't her style. As of this year, the Miss America pageant will no longer hold a swimsuit competition. The organization has also stated that it will no longer judge its contestants on physical appearance.   
With TV shows like 'Toddlers in Tiaras' and 'Honey BooBoo' even those who haven't been apart of pageantry have been exposed to the harsher realities of the show. (don't tell me you haven't found yourself mesmerized by this late one night…)  Even if you've never seen these, music videos like "Pretty Hurts" have done a pretty good job to paint a picture of what pageantry looks like. This new look for Miss America is intriguing though. In the current times are we seeing a platform emerge of deeper reflection of self?
Me Too
It seems the current Me Too movement is connected to this switch.  Earlier this year Gretchen Carlson ( Miss. America '89) took over as the organization's chairwoman after the Huffington Post released emails of filled with inappropriate, crude and disrespectful sentiments towards former Miss America winners.  Carlson, who has been an active voice in the 'Me Too' movement after suing former colleague of Fox News, Roger Ailes for sexual harassment seeks to do a much-needed overhaul of the entire persona and external message to the Miss America pageant.
In a recent statement, Carlson notes, "We are no longer a pageant. Miss America will represent a new generation of female leaders focused on scholarship, social impact, talent, and empowerment. We're experiencing a cultural revolution in our country with women finding the courage to stand up and have their voices heard on many issues. Miss America is proud to evolve as an organization and join this empowerment movement."
A New Attitude
While currently, we can't hear from the people who might be in the upcoming competition (legalities) it's safe to say that the Miss America Organization in general, as well as past contestants, are excited about the change.  May have released statements to show their support and excitement for the new change. Our very own Nina Davuluri the New York representative who went on to win Miss America, 2014 showed her enthusiasm in an Instagram post.
The Miss America organization has also used social media as a platform to share their new persona.  The hashtag #byebyebikini is being used to build awareness and support for this 'facelift to empowerment. As we know with any social media movement comes different ideas and perceptions.  Some push back on the no bikini because they feel it will diminish health and fitness, while others (the majority) are in full support of this more inclusive move.
Are you excited for this new look or going to miss the days of old? Share your thoughts with the community!
http://credit-n.ru/zaymyi-next.html
http://credit-n.ru/zaymyi-next.html
http://credit-n.ru/zaymyi-next.html
http://credit-n.ru/zaymyi-next.html