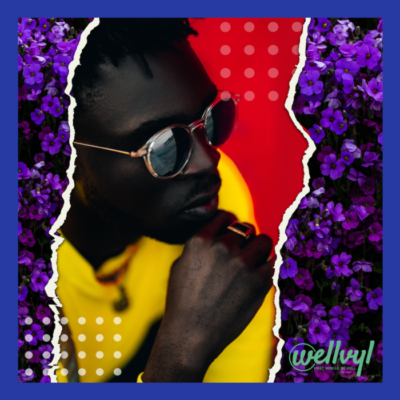 Q+A on Wellvyl!
What is the idea and motivation behind Wellvyl?
The idea behind Wellvyl is health begins within our peer groups and our community. We are a Village. Well-Vil. The motivation is that if we can get our peer groups to be healthier, we can, in turn, make ourselves healthier. On a deeper level we realize having a healthy peer group means we must learn to interact with each other with empathy, in order to maintain the emotional health of the group, creating an environment where we can focus on the aspects of health.


What is the importance of Wellvyl?
The old adages "show me your company I tell you who you are" & "it takes a village" is the importance of Wellvyl. Humans are social creatures so our community has a direct impact on our health. We look at health at its seed – the social environment. If we can create a kinder environment, we then have an opportunity to affect healthy change.


How would you describe the Wellvyl brand?
I would describe it as a community movement and health brand built for the streets and the urban environment. Not everyone has the luxury or time to be in the mountains. Wellvyl is for the Urban Dwellers. The fireman, the nurse, the security guard, the teacher, etc. Not just for Yoga Moms.


Why do you think people should both care and support the Wellvyl brand?
People should care about supporting brands that care about the local community with healthy down to earth values. Wellvyl is for We The People.



What differentiates Wellvyl from other brands?
Health Brands have been hijacked by Performative Elitist Brands. The Wellness space lacks Diversity and lacks realness. Wellvyl is designed for everyone, all types and we respect the practices and the original architects of these practices. We see brands that discuss Wellness and we only see a focus on Physical and Whiteness – we do not see a focus on Mental, Physical, Spiritual and Social.


If you could describe Wellvyl with 3 different adjectives, what would they be?
We, Safe, Raw.



What are a few ways people can practice kindness in their day-to-day lives?
Practice Patience. Listen. Understand the history and culture of people around you. Understand pain is mental and psychological. Understand we can respond to anger with kindness but with boundaries. Gratitude and spatial awareness are some other ways.



If you could give Wellvyl an aura color, what would it be?
It is a Forest on Concrete Building. So green and gray. Colors in the darkness.



How can people best support the Wellvyl brand?
Follow Wellvyl, practice kindness, share stories of acts of kindness, share social hacks on how to deal with toxic people, buy our merch that is designed to inspire kindness, call out toxicity.



If you could leave people with a few last words about the brand, it's significance, and importance…what would those words be?
KINDNESS IS GANGSTA. It takes courage to be kind. Remember it also kind to protect yourself and your community.
Our merch is all about inspiring, connecting,
starting conversations, opening dialogues about society,
and improving human interactions. Check out our #newdrippy Spring 2021 catalogue!