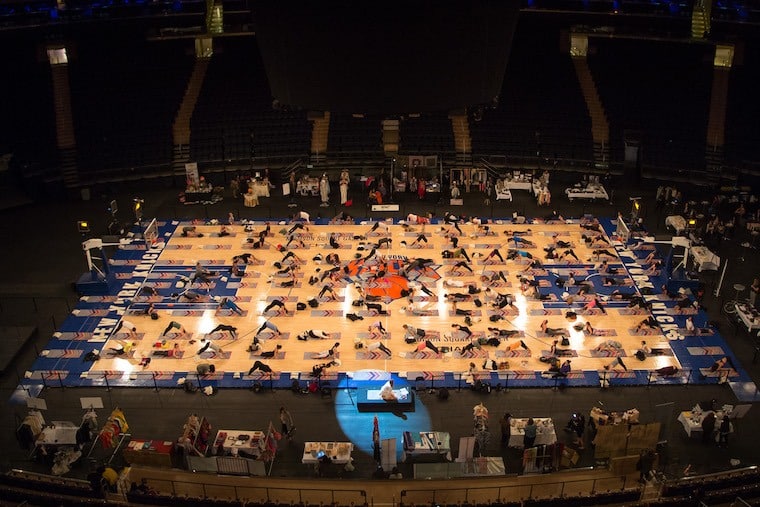 A Mass Meditation at MSG
ICONIC.
A Mass Meditation at MSG. A couple weeks ago, I was invited to attend a Medi Club session in Williamsburg, Brooklyn. My relationship with meditation is new. I always felt I was too anxious to be able to achieve that kind of inner peace.
But when you hear that ANYTHING is taking place at Madison Square Garden for the first time, you make sure you can be there! And that is what makes The Big Quiet and Wellvyl so cool, it is so New York City. The Mass Meditation at Madison Square Garden followed meditation sites like Union Square and Lincoln Center.
Also important is bringing together us crazy New Yorkers on the floor of such an iconic arena to create true community. And I must say, that is good for the soul. We ride subways and walk crowded sidewalks every day surrounded by diverse New Yorkers. Imagine every person around you was sharing one heartbeat and path to inner peace. Being one body in an area of bodies breathing as one coming to peace at one. So powerful.
In Medi Club style we turned around to ask a beautiful stranger a question, "what are you most excited about right now?" I like this one because no matter what the answer because it brings a smile to yours and the other's face. You learn what small or big things mean the most to someone.
And that is good for the soul.
You ever been a part of a sound bath? Well that combined with gongs, it was great. Relaxing and beautiful music added so much magic in such a large space. A sound bath is comprised of meditations and a listening session. While you are practicing, there are soundscapes that make it hard to keep your eyes clothes. You want to witness the beautiful sounds being made.
The Big Quiet is presented by Medi Club. Medi Club is an organization based in New York City, aimed at growing a community of New Yorkers who meditate as a group. All types of meditation welcome. Monthly gatherings, enhanced by these mass meditations held an iconic New York staples.
I hope I can be a part of something like this again and make sure to always invite someone new.
by Patricia R.
http://credit-n.ru/zaymyi-next.html
http://credit-n.ru/zaymyi-next.html
http://credit-n.ru/zaymyi-next.html
http://credit-n.ru/zaymyi-next.html